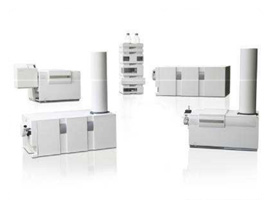 Most Important
Lamps
Capillaries
PM kits (pistons, valves, etc)
Vials
Rack
Supplies Needed
Cloth, clean lint-free PN 05980-60051
Clean Gloves, nylon, lint free large PN 8650-0030 / small 8650-0029
Abrasive paper, 8000 grit PN 8660-0852
Cotton Swabs PN 5080-5400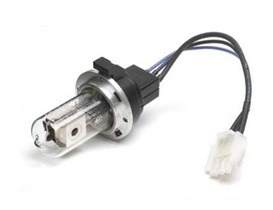 Why Choose Agilent Original Lamps
For best chromatographic results:

Agilent lamps are developed with Agilent detectors
Strong cooperation between lamps suppliers and Agilent R&D
Every lamp is shipped with a test certificate
Exchange possibility if lamp does not met specification
How do we Support our Lamp Quality
Every lamp is shipped with a certificate
Every lamp has a 2000 or 1000 hours warranty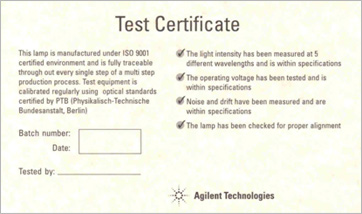 Objective of Improvement
Develop a more robust and stable lamp – Reduce stepping and spiking effects.

Solution New cathode with larger surface.
The cathode wire is wrapped with a very thin wire, which increases the surface. The increased surface can hold now more coating material.
The bigger amount of coating material improves the robustness and stability of the lamp. There will be less stepping and spiking effects, which leads also to a longer life time.
(We give the same 2000 hours life time guarantee as for the current lamps)

Old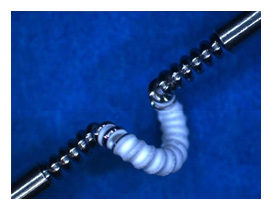 New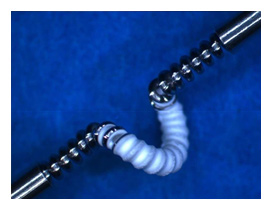 The new wire has a bigger surface which holds more coating More coating for better stability
Old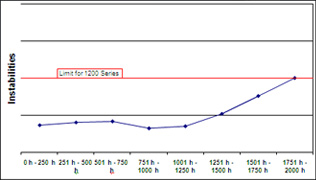 New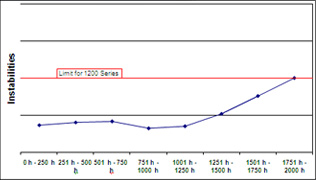 More stability, more robustness with new cathode
Low noise is available over longer time

(The test results represent 5 lamps of each type over 2000 hours.)
DAD/MWD 2140-0820
VWD G1314-60101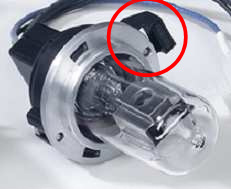 Radio Frequency Identification Tags RFID tags records all relevant data necessary to recall instrument conditions under which a run has been executed.
Minimizes the risk of false data interpretation, because measurement conditions are documented. Meta data stored on RFID tags are saved with each raw data file for unambiguous answers to (auditor-) questions like:
"Did the accumulated burn-time of the lamp exceed pre-defined limit?"

Recorded data:
Accumulated on-time Actual on-time Number of ignitions Date last test passed Product number Serial number Production date

Situation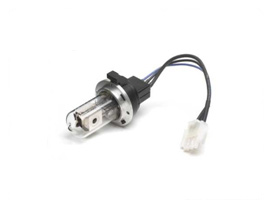 Cost of ownership is becoming an important aspect when deciding for a new instrument Lamps are the biggest cost factor running a LC, CE our UV-VIS instrument The life time of lamps has been significantly improved during the past years, but still needs relative frequent replacement
As soon a customer do sensitive test
As soon a customer need high light intensity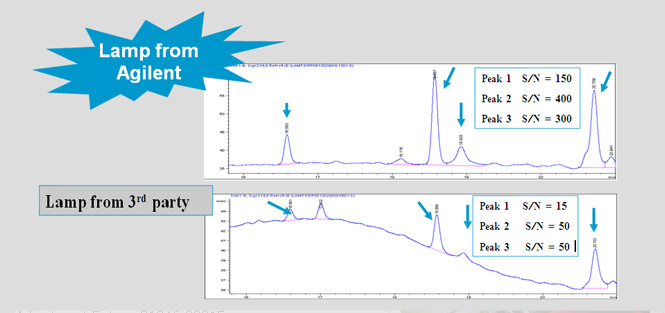 DAD Lamp comparison
Parameter

Original Agilent Lamp
PN 5181-1530

3rd Party Lamp

Remarks

Meets alignment specifications for use in Agilent detector

YES

No

Aligment is very important for a shine through lamp

Meets Noise specifications for use in Agilent detector

YES

No

The Detector can not meet noise specifications if the lamp does not meet specs

Cap to reduce noise and for easy handling

YES

No

The Cap has been Designed to Reduce the noise of the lamp and simplify handling of the lamp

Lamp Aligned and tested by Agilent

Agilent Test Certificate

YES

NO

Ensures correct alignment and verifies specifications Every lamp is shipped with agilent Test Certificate

Agilent System Guarantee

YES

NO

Agilent can only give guarantee for the instrument of original supplies are used
Agilent lamps are developed with Agilent detectors
Strong cooperation between lamps suppliers and Agilent R&D
Best lamp for Best chromatographic results
Every lamp is shipped with a test certificate
Exchange possibility if lamp does not met specification
| | |
| --- | --- |
| Active Inlet Valve Cartridge | Purge Valve |
| Plunger Seal | Needle seat |
| Outlet Ball Valve | PTFE Frit |
| Active Inlet Valve | Rotor Seal |
| Glass Filter | Stator Face |
In the top 10 we have
6 Pump Maintenance parts
3 Sampler Maintenance parts

Pore size of the column inlet frits -> 0.2 µm
Filtration -> extremely important

Filtration of mobile phase
Filtration of sample
Use in-line filter
New RRLC systems are shipped with in-line filter
Agilent offers broad range of filtration products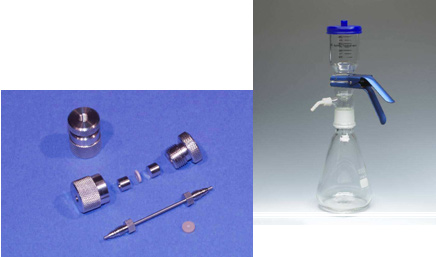 Description

Frit porosity (um)

Frit inlet
ID (mm)

Comments

Part
Number

Replaceme nt Frits

RRLC in line filter 4.6mm

0.2um pore size (600Bar)

0.2

4.6

600 Bar

5067- 1553

5062-1562
(10/pk)

RRLC in line filter 2.1mm,
0.2um pore size (600Bar)

0.2

2.1

600 Bar

5067-
1551

5067-1555 (10/pk)

Low Dispersion in-line filter.
Includes 2 frits 2.1mm, 2um pore size

2
0.5

2.1

<1 ml/min

01090-
68702

280959-904

(10/pk)
280959-907 (10/pk)

Universal in line filter

Includes 2 frits 4.8mm, 2um pore size

2
4.8

1-5

ml/min

01090-
68703

01090

27609 (2pk)

Semi prep filter

0.5

12.7

1-5
ml/min

5064-
8273

5022-2185`

High pressure semi prep filter

10

19

5-10
ml/min

5022-
2165

5022-2166 (10/pk)

Prep filter

10

10- 100 ml/min

5065-
4500

5065-9901

1290 inline filter
0.3
2.0
1200 Bar
5067-4638
5023-0271
(5/pk)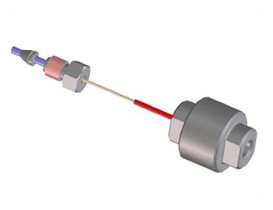 Designed for low carryover

Direct connection to the injection valve or the column
1200-bar compatibility
Dead volume-----------1.3ul
Filter ----------- 0.3um
Rigid or flexible capillaries
| | | |
| --- | --- | --- |
| | 1290 Infinity Inline Filter (0.3um) | 5067-4638 |
| 1 | Filter cap | Non orderable |
| 2 | Filter housing | Non orderable |
| 3 | Fitting insert | Non orderable |
| 4 | SST capillary rigid | 5067-4637 |
| 5 | SST capillary flexible | 5064-4636 |
| 6 | Filter frits (0.3um) | 5023-0271 (5/pk) |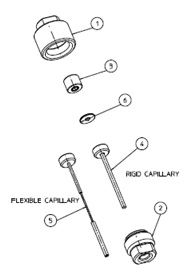 1/32" PEEK coated fused silica capillaries for Micro and Nano LC
Fitting type

Part

Module

EMPV Flow sensor
Metering device Injection needle

Injection valve

Sampler

Column

Oven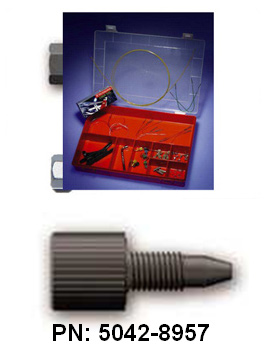 Standard Swagelock fittings for proper sealing at 1200 bar
Standard Swagelock fittings for proper sealing at 1200 bar
Standard Swagelock fittings for proper sealing at 1200 bar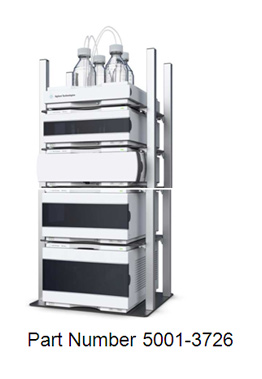 Agilent LC system secure
Fast and Safe access to instruments and cables during maintenance procedures and modules transfers
Open design that ensures proper airflow management and power distribution of equipment and cabling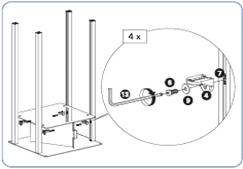 Easy setup, assembles in minutes with no specialized tools required
Adjustable helves for all Agilent 1100 Series, 1200 Series and 1290 Infinity LC modules
Possibility attach the rack to the work bench for maximum stability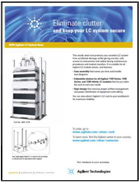 Flyer 5990-5294EN