91- 33 - 4005 1347 / 4005 0941 / 2454 1930

$("#example1").zAccordion({
	timeout: 4000,
	slideWidth: 800,
	width: 1249,
	height: 461
});


The Chromatopak Economy Gas Station is a unit to control and purify N2, H2, Air, and He gases (as required) for subsequent use for Gas Chromatography. Each of the four gases has a designated powder coated control panel for purification and control of the designated gas with specifications as under. The unit as a whole is wall-mountable.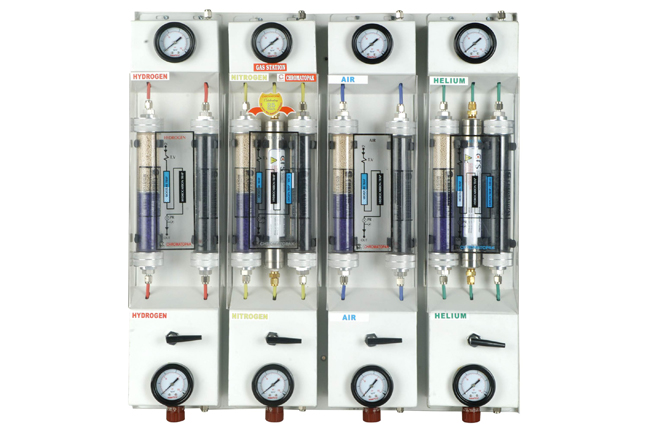 The Panel Designated As Nitrogen & Helium
Inlet toggle Valve (Brass) rated at 10 kg / cm²
Inlet & Outlet Pressure Gauge (0-10 kg / cm² ).
Outlet Pressure Regulator with a locking arrangement (0-10 kg / cm² )
Gas Filters (Capable of removing oxygen, moisture and hydrocarbons from N2/ Helium).
Oxygen Trap (CRS USA, Make) (Oxygen removal Capacity 600 cc) capable of filtering out oxygen to a level of 15 ppb.
Pressure Rating: 10kg / cm² MOC: Aluminum.
Moisture Trap: A combination of Indicating Silica gel and Molecular Sieve-for drying the gas (self – indicating).
Pressure Rating : 10kg / cm² MOC: Acrylic
Hydrocarbon Trap: A Filter consisting of Activated carbon to adsorb traces of hydrocarbons present in the gas.
Pressure Rating : 10kg / cm² MOC: Acrylic
Polycarbonate Filter Shield.
1/8" Inlet / Outlet Fitting.
Wall – Mountable, Powder – Coated Enclosure
Dimensions: H: 500 x W175 mm
Weight: 3.5 kg.
Panel Designated As Air and Hydrogen
Inlet toggle Valve (Brass) rated at 10 kg / cm.
Inlet & Outlet Pressure Gauge (0-10 kg / cm²).
Outlet Pressure Regulator with a locking arrangement (0-10 kg / cm²)
Gas Filters (Capable of removing moisture and hydrocarbons from the gas).
Moisture Trap: A combination of Indicating Silica gel and Molecular Sieve – for drying the gas in acrylic tube (self – Indicating type)
Pressure Rating: 10kg / cm² MOC: Acrylic
Hydrocarbon Trap: A Filter consisting of Activated carbon to adsorb traces of hydrocarbons present in the gas.
Pressure Rating: 10kg / cm² MOC: Acrylic
Polycarbonate Filter Shield.
1/8" Inlet / Outlet Fitting.
Wall – Mountable – Powder – Coated Enclosure.
Dimensions: H: 500 x W 175mm.
Weight: 3.25kg